You are your safest sex partner?   Is this a government mandate?…  Well maybe not so but definitely an advisory issued by the NYC health department on safe sex during Covid 19 encouraging masturbation as a safe sex practice.  
While it's funny and a bit disturbing, let's face it, this is true to a degree.  With self pleasure, you can't give yourself STIs, you can't get yourself pregnant, and you never forget to call yourself back.  Now, during a global pandemic, you get the additional benefit of not being able to give yourself the Coronavirus, that is assuming you wash your hands! 
Prioritizing Self Pleasure
For those who have not prioritized self pleasure for some time, it may be difficult to know where to begin. Many of us simply haven't had time to focus on our bodies, or have developed masturbation patterns that are orgasm focused and unvarying.  It may take some time to explore your body. You have to assess what type of stimulation feels novel and arousing for you. 
Sex toys are a fun and helpful way to facilitate novel stimulation. And they also help break sexual habits. Through experimenting with vibrators you can realize the varieties and intensity in pleasure through different means of stimulation.  It can also be very empowering to learn about what you like. Once you figure this out, it makes partnered sex better as well.
Why are Vibrators Worth a Try?
Penises can do a lot of amazing things, but even the best one, does not vibrate! Vibrators can help you become in touch with new sensations. It can be particularly helpful for those that struggle with orgasm, as it is often the easiest way to get there.  Using vibrators does not decrease your ability to enjoy other forms of partnered stimulation or lead to any long-term decrease in sensation.
General Vibrator Tips
I know it can feel uncomfortable for some to order a sex toy. But, it's important to note that most companies do discrete delivery.  Everyone's body is different, so different toys will feel better for different bodies. The majority of female bodies require clitoral stimulation to orgasm. For these women, I suggest choosing one of the vibrators that includes exactly that.  If you can orgasm from a penile penetration without clitoral stimulation, then I suggest choosing a vibrator that includes vaginal stimulation.  
Optimize Your Self Pleasure Experience
With all vibrators, play around!   Before using it, make sure you have sufficient time alone to optimize your self pleasure experience.  Then create an arousing environment.  This setting looks different for everyone but can include relaxing music, lit candles, a clean space or some erotic literature.  Once you are comfortable, experiment with different intensities and angles of the sex toy.  Use your free hand to play with your body.  Remember, the goal isn't to orgasm quickly but to experience novel sensations and learn about what feels good.
Intrigued?  Great, here is a list of four incredible vibrating sex toys.
Bullet Vibrator
 A bullet vibrator is a great first sex toy for women, as it is small and easy to play with.  I suggest the Chaiamo, as a good quality bullet vibrator.  It is silicone and has a number of options in terms of intensity and pulsation options.  It is waterproof and charges through a USB, which is very convenient. With this vibrator I suggest using a slightly lower setting to start and slowly increasing the intensity.
The Magic Wand
I'm going to be honest with you, the Magic Wand is my favorite vibrator and as a sex toy reviewer, I've tried MANY toys.  This is the toy that was featured in Sex and the City. There is the famous scene where Samantha tries to return her massager explaining to the salesperson that it doesn't make her orgasm.
When using this toy I suggest starting with the lowest setting. If it feels good, slowly put a finger inside your vagina as you feel the vibration on your clitoris.  You have the option of getting the plug in magic wand or the rechargeable one.  The stimulation is similar, but it is annoying to always have to remain close to a plug. So, if you can afford it I suggest the rechargeable wand.
MONA Wave G spot vibrator (LELO)
The MONA Wave Vibrator by Lelo is incredible.  It is a G-Spot stimulator, meaning you put it inside your vagina and turn on the intense vibration.  The sensation feels exactly like there are hundreds of vibrating fingers alternating sensation inside you.  It has eight vibration settings and it is waterproof.  I suggest this toy for folks who can orgasm through penetration.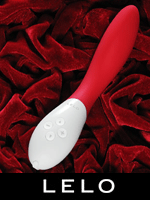 Womanizer Clitoral and G spot stimulation (DUO-Bordeaux)
Womanizer is a company that created their own vibrator technology. It uses intense air mechanics that actually stimulates the clitoris without any physical touch.  Researchers at Womanizer found that more than half of women were able to orgasm within one minute of using their technology. Nuts! Although all of their sex toys are worth exploring, the Duo-Bordeaux is great because it uses that intense air flow technology on the clitoris, while simultaneously providing a G-spot massage. With this toy, you can experiment with the intensity of the clitoral stimulation and G-spot pleasure.  This can lead to very intense full body orgasms.
Now is a great time to prioritize your self pleasure and put time into sexual experimentation.  Playing with sex toys is an empowering way to learn what feels good for you and to feel in control of your sexuality. Listen to NYC Health, and pleasure yourself in new and exciting ways!
Author Bio:
Niki Davis-Fainbloom, MA is a NYC based sexuality writer, educator and coach. She has lectured at Planned Parenthood, New York University, and The United Nations. She writes articles for a number of magazines including Pornhub, Future of Sex and the Insider. Her goal is to help people develop the skills to have healthier, and more satisfying romantic and sexual relationships. You can follow her @nikidavisf